Where to get your Grutto Pass
Grutto Pass 2019 is available at all 95 participating facilities, listed here. It can also be purchased at the places below:
Please note:
Refunds for the Grutto Pass 2019 are not available.
The pass cannot be exchanged or its period of validity extended under any circumstances, including natural disasters.
Not valid if the front cover, tickets, or ticket stubs have been detached from booklet or altered in any way.
Not valid without a legible expiration date.
Passes are non-transferable.
Please contact each facility for details about discounts and exhibitions.
The pass cannot be used along with other discounts.
Please check the discount rates that apply when children and seniors (65 years & older) visit facilities.
Grutto Pass 2019 cannot be purchased at facilities while they are closed.
Best deal!
Tokyo Subway & Grutto Pass 
* Foreign tourists visiting Japan only.
Set contents
Tokyo Subway 48-hour Ticket (One ticket)
* Valid for all lines of Tokyo Metro and Toei Subway for 48 hours from the travel starting time during the valid period.
Tokyo Museum Grutto Pass 2019 (One pass)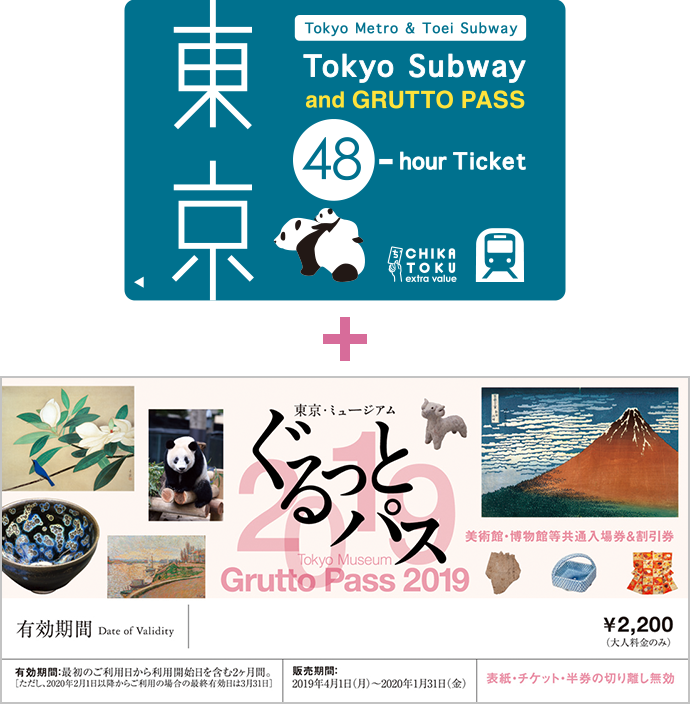 Tokyo Subway 48-hour Ticket + Tokyo Museum Grutto Pass 2019
Sales price
¥3,070
See the Tokyo Metro website for details.