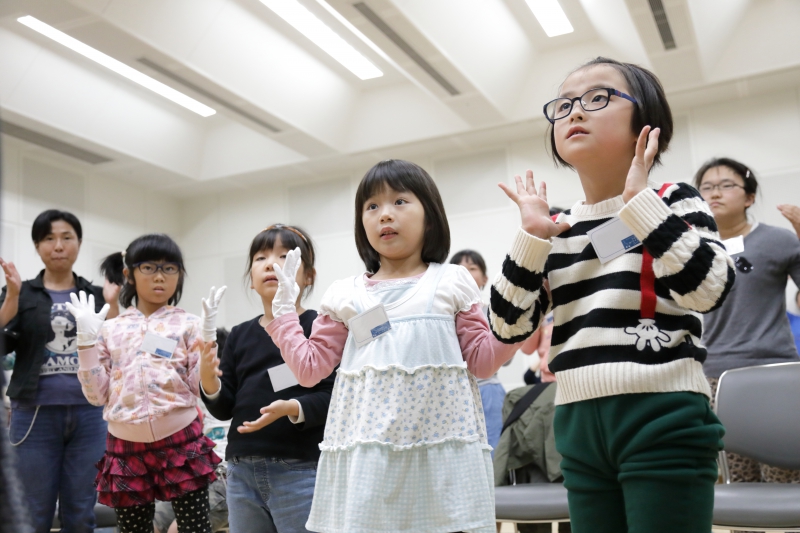 Everyone is full of energy. We can see just how much they're enjoying the rehearsal.
El Sistema is a music education program which started in Venezuela, but has now spread around the world. As part of its work, El Sistema launched the White Hands Choir in Venezuela in mid-1990s. Alongside a traditional choir of singers, chorus' performances involve white gloved hands moving in time to music, expressing songs through sign language in what is called "signed singing"*. These white hands, which seem to dance like a butterfly under the direction of the conductor, gave the chorus group its name.
*The TOKYO White Hands Chorus calls this shuka.
The TOKYO White Hands Chorus was launched for Japanese children with hearing disabilities in June 2017. Its activities aim to promote mutual understanding and respect within society through performance art, while encouraging children to take pride in their individuality. The group made its debut performance in October 2017 at Tokyo Metropolitan Theatre in the "El Sistema Festival 2017 Gala Concert".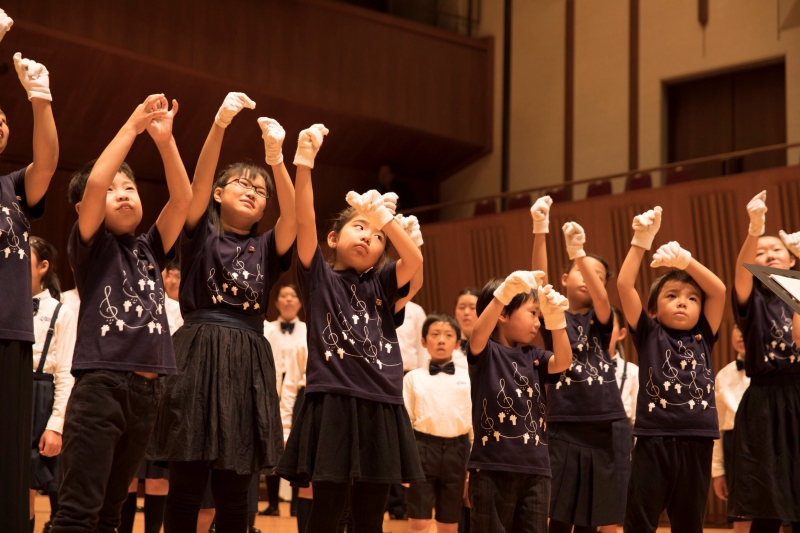 The TOKYO White Hands Chorus at the El Sistema Festival 2017 (C) FESJ/2017/Mariko Tagashira
*Here you can see scenes from Tokyo White Hands Chorus' rehearsals and debut performance in 2017 [YouTube]

In June 2018, the "sign section" was joined by a new "vocal section" most of whose members have visual impairments. At this year's "El Sistema Festival 2018 Gala Concert", taking place on the 1st of December, the two sections will perform together for the first time. We went along to a rehearsal in the run-up to their debut performance.
How does the "vocal section" prepare for the debut performance?
The TOKYO White Hands Chorus rehearses once or twice a month on Sundays, at venues like Tokyo Metropolitan Theatre. Today, the "sign section" and "vocal section" will rehearse independently before a joint practice is held. We start at the vocal rehearsal space, where the children are already gathering. The members total sixteen, made up of elementary and junior high students. Some of the members are sighted, but many are partially sighted or blind. As soon as they take their seats, they begin chatting animatedly to their neighbours. It's very lively, and everyone is enjoying themselves.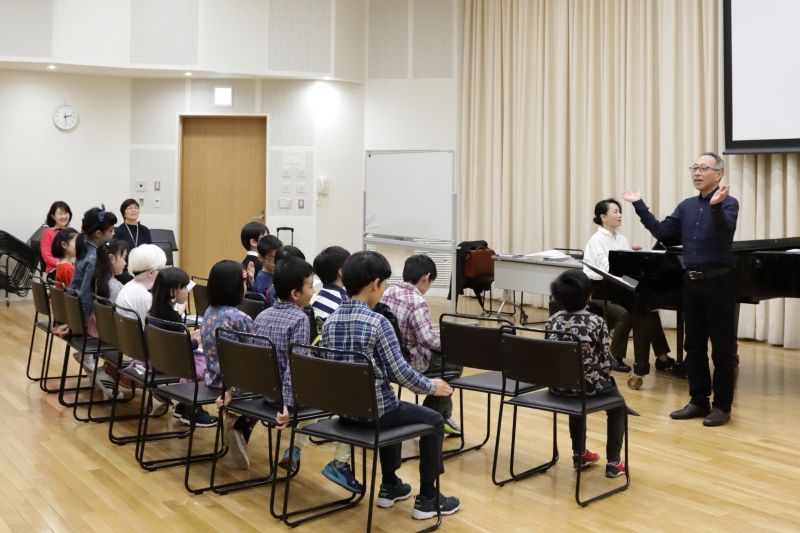 Time for the vocal practice to start! As soon as Mr. Tsuchino starts to speak, everyone listens attentively.
The "vocal section" is led by musical therapist Kenji Tsuchino. The rehearsal starts with words from the teacher: "Straighten your posture! Let's get ready to start!". Today's session begins with a Spanish song. When Mr. Tsuchino asks, "Can you roll your Rs?" he is answered by the children crying "rururu" as they give it a go. They're quite good at it.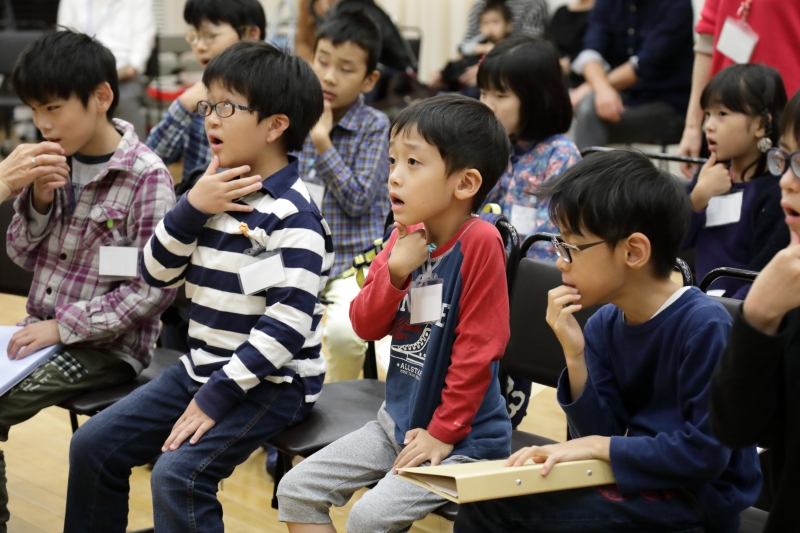 Holding their right hand to their chin, they practice vocalising without moving their jaw.
During break time, we asked one second grade boy how he came to be involved in The TOKYO White Hands Chorus.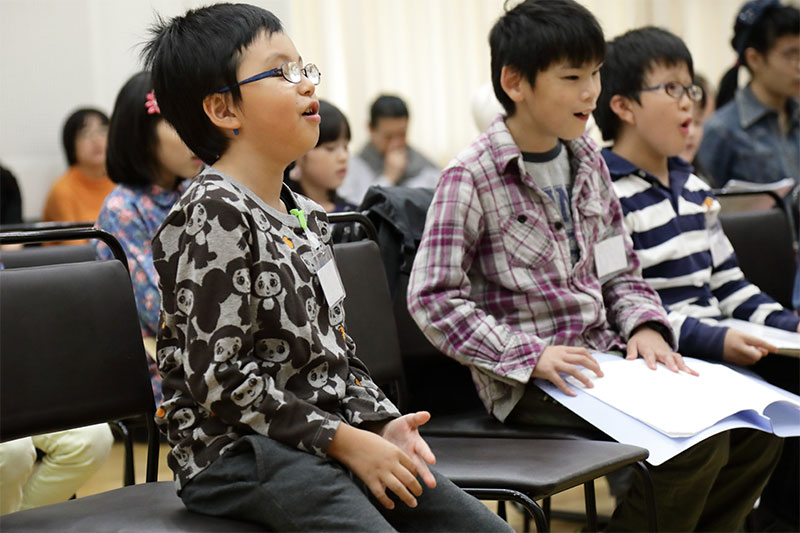 It's fun to make new friends and learn new songs!
"I saw a flyer at school," he answered excitedly. "At first I thought it was enough for me just to do music at school, but after I started I really enjoyed it. I was really glad to sing songs I'd never heard before, like "Furusato no Sora". It's so much fun!"
shuka "signed singing", expressed through the hands and bodies of the sign section
Next we stop by the sign section rehearsal, in a separate room. The section is led by Erika Colon, a soprano singer who also acts as a special advisor of El Sistema Japan, and by Tetsuya Izaki of Japanese Theatre of the Deaf. The "sign section" has nineteen members with varying degrees of hearing impairments, including deaf children and those with partial hearing. Some of the children can lip-read.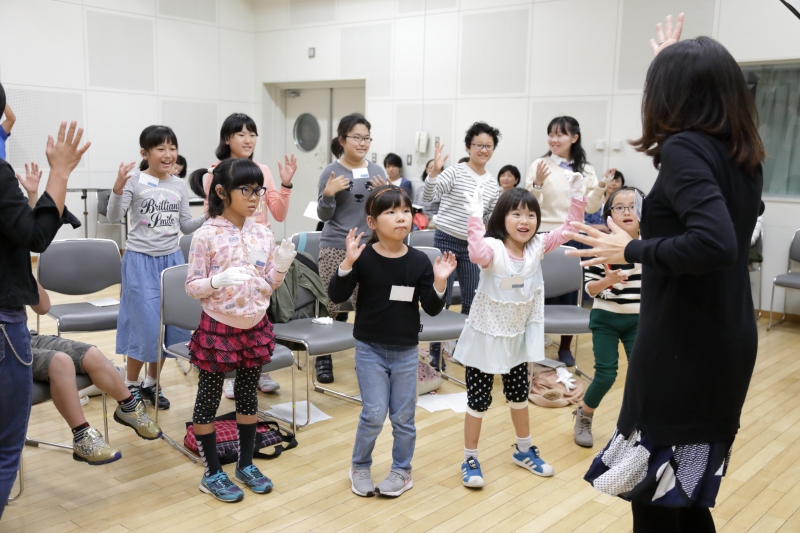 Ms.Erika uses her face and body as she instructs. Not to be outmatched, the children also show how expressive they can be.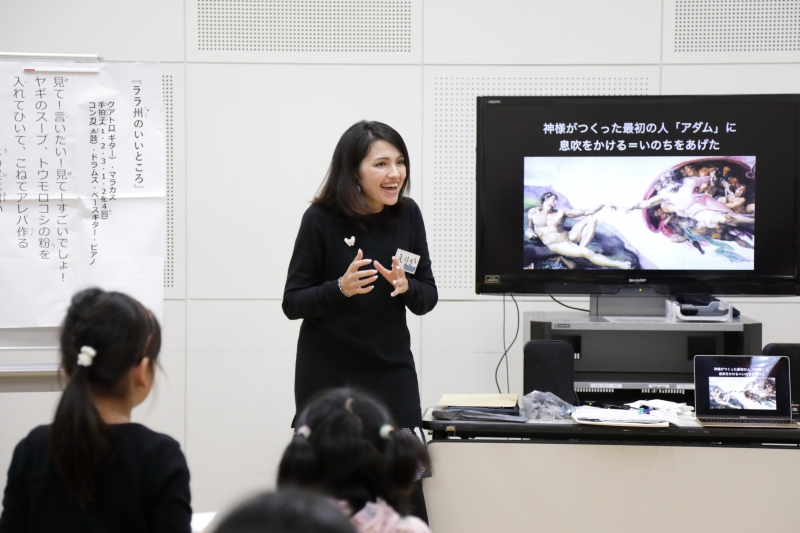 Ms.Erika Colon carefully explains the meaning of the lyrics with the aid of photographs.
"Let's try it together with the music!" A rather up-tempo Spanish language song starts to play. Ms.Erika begins to perform the Spanish signed song in time to the music in a highly expressive manner. Mr. Izaki lines up with the children, making sure their movements are correct. The children, like their teacher, use their hands and bodies to express the song, matching the rhythm.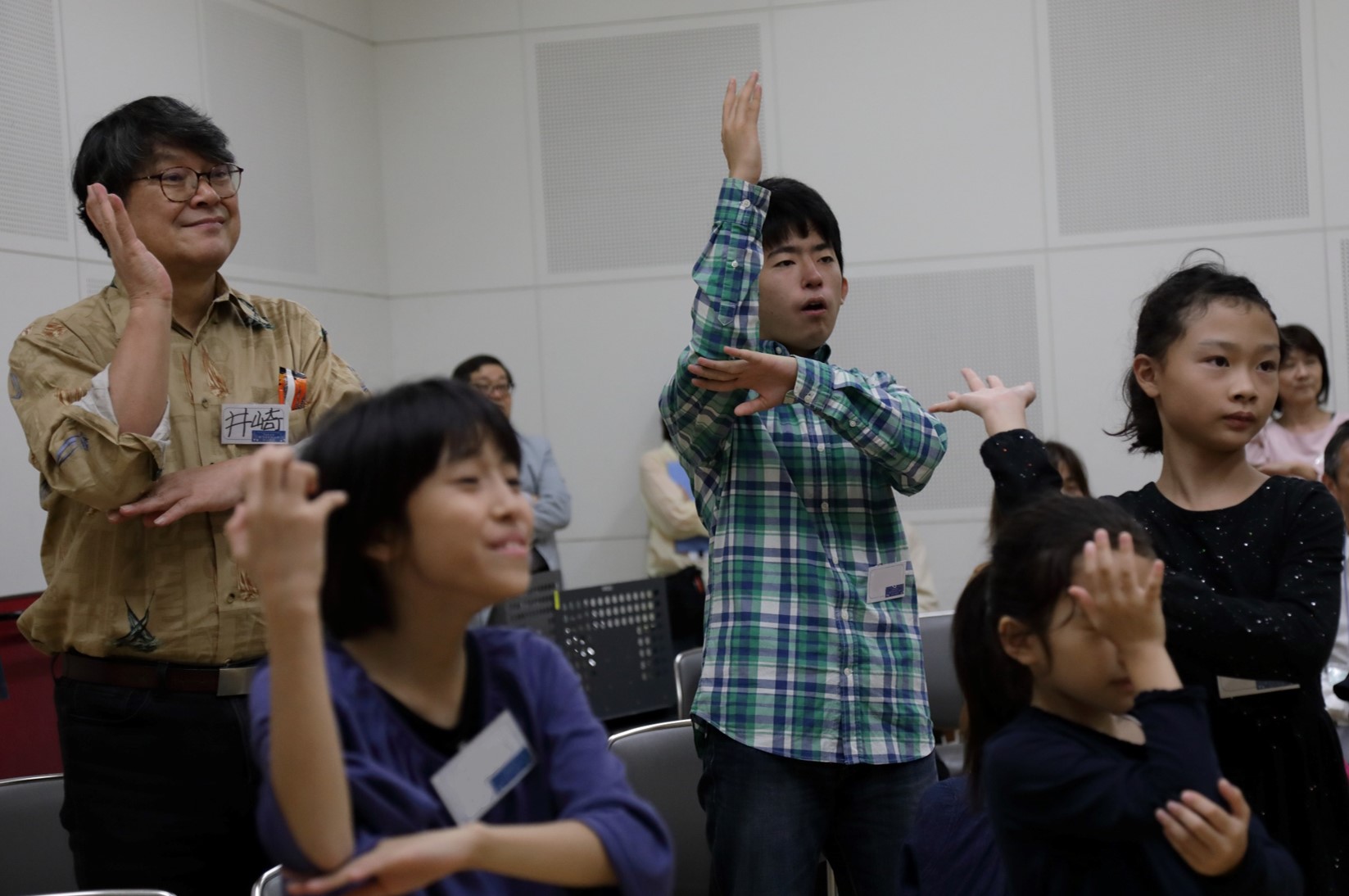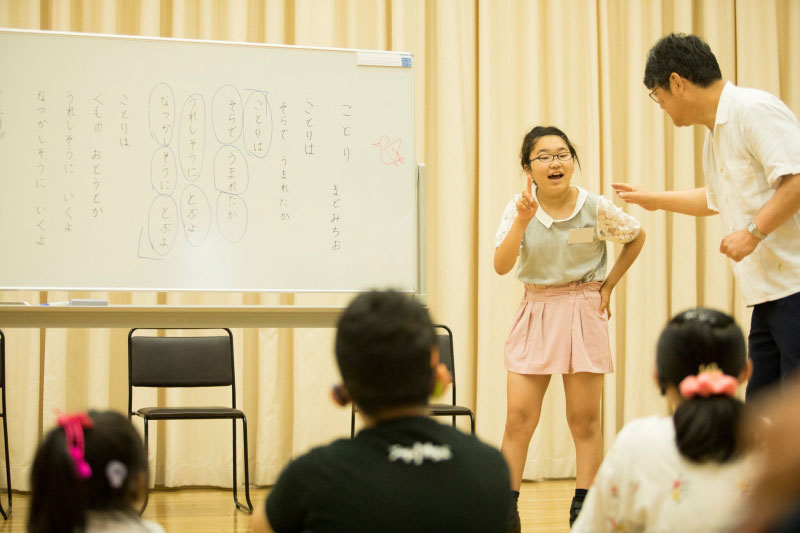 Japanese Theatre of the Deaf's Tetsuya Izaki (right), teaching shuka "signed singing." (Photograph taken on a different practice day.)

After rehearsals we spoke with a 3rd year junior high school boy, now in his second year with TOKYO White Hands Chorus. "It's fun to learn to express songs and music. Last year when I stood on the stage for the first time I was nervous, but I was so happy to be able to perform through shuka "signed singing"." A second grade girl happily told us in sign language, "Last year, we found the Venezuelan song hard because it was very fast, but this year we've gotten better at it."

At break time, arepas (a kind of food from Venezuela) made by Erika are handed out.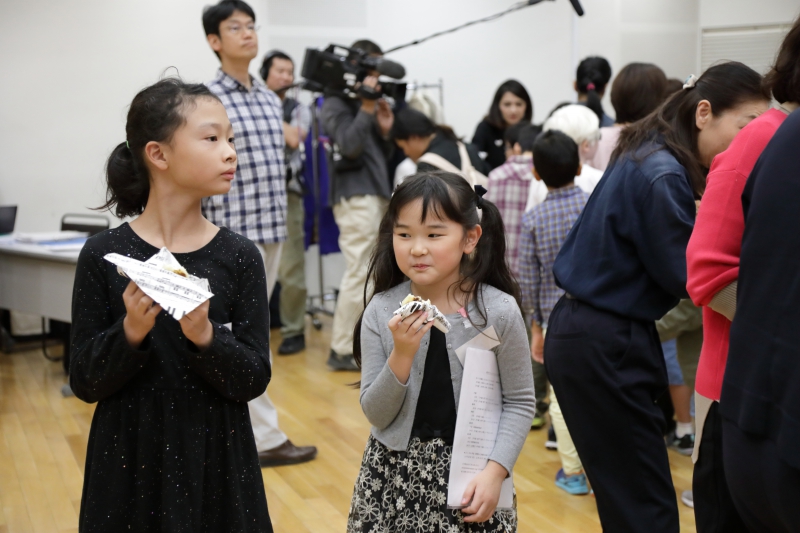 The children give their impressions: "I've never tasted anything like it before!", "Delicious!" and "Tastes like potato".
"Sign section" and "vocal section" members pair up for joint rehearsals
It's finally time for the joint rehearsal. Each member is paired with a child in the other section, known as their "buddy". As soon as they come together, the buddies are holding hands and communicating with each other, looking completely at ease.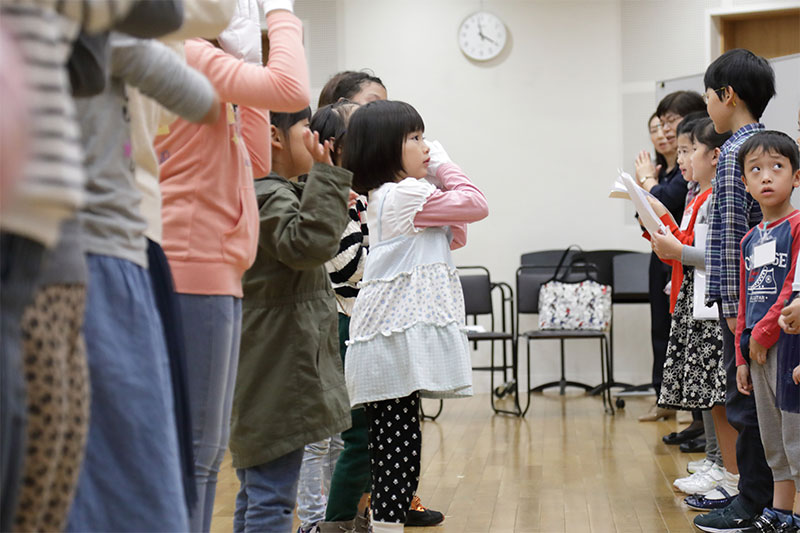 Buddies practise while facing each other.
The tempo of the song is fast, but to make sure the movements of the "sign section" and voices of the "vocal section" are in sync, the teachers keep the rhythm through clapping, communicating through facial expressions. The children give it their all as well.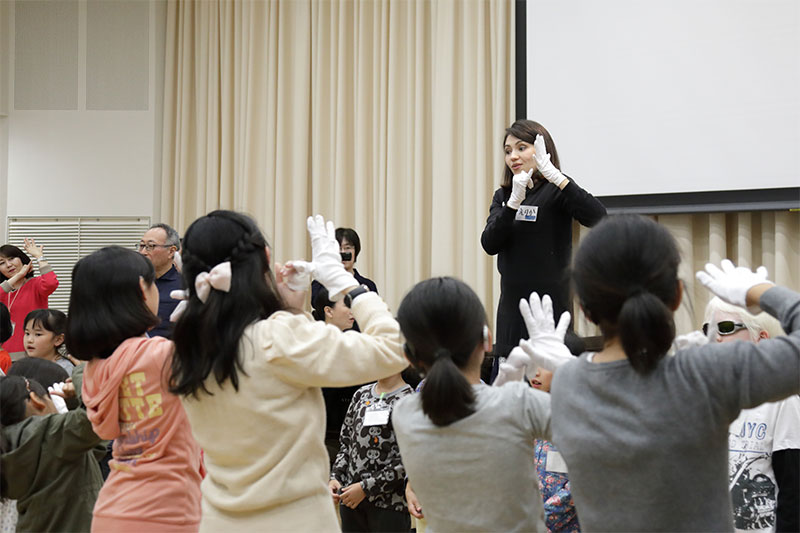 There was a sense of unity in the joint rehearsal.

Maybe with December (and the final performance) approaching, a communal feeling has gradually developed in the group.
But how are children with different disabilities able to communicate with each other? A 1st year junior high school girl explained it to us. "I can see a little, so my sign section partner communicates in sign language close to my eyes, and that's fun. She can hear a little, so I make sure to speak loudly and clearly. By helping each other, we are able to understand one another."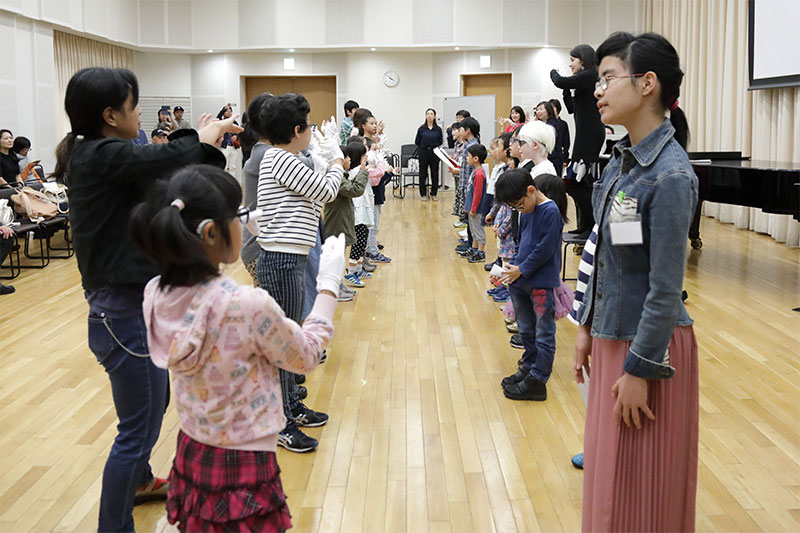 One junior high school girl (right) told us that partially hearing children and partially sighted children come together to help and understand each other.
What we found most impressive from the rehearsals was just how lively, expressive and happy the children looked as they were performing, and how they were able to overcome their disabilities and build trusting relationships. We're sure that at their first joint performance in December, they'll impress us with the fruits of all their hard work.
[Date and Time] 1st December 2018 (Saturday) from 15:00 (lobby opens 14:00)
[Venue] Tokyo Metropolitan Theatre Concert Hall
[Conductor] Enluis Montes Olivar
[Performers] Soma Children's Orchestra, Otsuchi Children's Orchestra, Komagane Children's Orchestra
The TOKYO White Hands Chorus (Directors/Conductors: Erika Colon, Tetsuya Izaki, Kenji Tsuchino Piano: Reiko Awazu)
Lara Somos (Vocal ensemble)
[Tickets] All seating assigned (tax included) Adults: ¥2,000 High School age and under: ¥1,000 * Tickets for high school age and under are available at the box office only. Please present your student ID at reception on the day of the performance (ticket numbers limited).
[URL] http://www.geigeki.jp/performance/concert157/