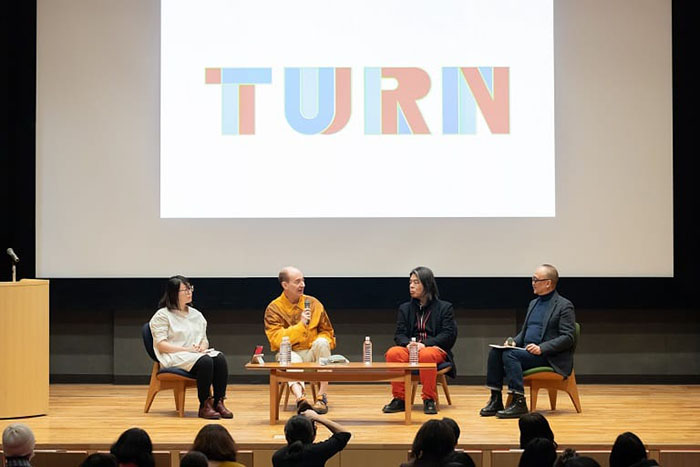 「From TURN Meeting No. 7 (February 2019) Photo: Ryohei Tomita
TURN is an art project to create interactions in expressive form, through encounters that transcend differences in backgrounds and customs such as disability, age, gender, nationality, or living environment. TURN was launched under the direction of artist Katsuhiko Hibino in 2015, as a leading project of the cultural program for the Tokyo 2020 Olympic and Paralympic Games. It has been underway as part of the official Tokyo 2020 Cultural Olympiad since 2017. The program is being expanded through cooperation with organizations in a variety of fields, with the goal of creating a rich society rooted in relationships of respect for each person's individuality.
2019, the project's fifth year, will feature a wide range of activities centered around four existing programs, aimed at achieving a sustainable project looking toward 2020 and beyond.
*Please see this video to find out about previous activities.
|May 12th TURN meeting considers communication in the future
The first public event to be held this fiscal year was TURN Meeting No. 8 on May 12th, 2019 (Sunday). The topic was "communication." How should we communicate with each other across different cultures, environments, and personal backgrounds? What might non-verbal communication entail?
Guests included Takaya Matsuda, co-founder of MIRAI GENGO (a project imagining communication 100 years in the future) and representative director of Heralbony, as well as Shinji Kajitani, University of Tokyo professor and philosopher. The discussion titled "What is communication that opens the way to the future?" also included Laila Cassim, who began working as TURN project designer this year, and covered a variety of expression and communication methods that don't rely on conventional language, as well as the potential of senders and receivers.
◆ TURN Meeting No. 8
Date and Time: May 12th, 2019 (Sunday), 1:30-3:30 p.m. (Doors open at 1:00)
Venue: Tokyo University of the Arts, Faculty of Fine Arts, Main Building 1F, Lecture Room 1 (Uenokoen 12-8, Taito-ku, Tokyo)
Free admission, no advance reservation necessary, sign language interpretation and written support available
* Next TURN meeting : Nov 17th, 2019 (Sunday).
| What happens when welfare facilities and communities meet artists?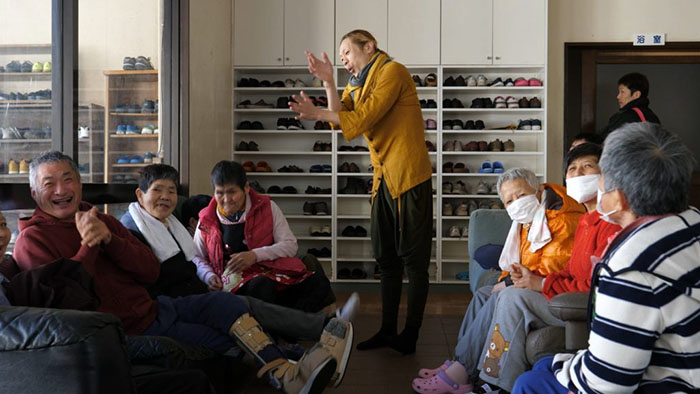 TURN Interactive Program: Kaiji Moriyama & Cocoromi Gakuen Photo: Ryohei Tomita
What exactly does TURN do? In the fall of 2016, TURN director and artist Katsuhiko Hibino said the following about the project's goals:
"Art has the power to transform value….By visiting so-called "minority" communities, artists can discover potential and value that was previously hidden. They have the opportunity to discover and work towards solving various societal problems. I think that is TURN's greatest aim." (*1)
Kentaro Onishi, an artist who has interacted with Komone Fukushien (a welfare facility for the disabled located in Itabashi-ku) since 2016, also had the following to say: "I want TURN first and foremost to be a place where members and staff can build new relationships. With the participation of people like artists and those who are not part of the facility staff, when the usual relationship between staff and members is shifted, they come to notice a new side of themselves and others. It's as if the intervention by an outside party shifts that familiar relationship a bit, bringing other aspects into view. I think everyone working at Komone Fukushien discovers lots of different expressions from users of the facility, and react as though it's improvised theater." (*2)
Through the power of art, TURN brings out the value of each person's individual characteristics and continues to renew our awareness and context. It is currently composed mainly on four programs: the TURN Interactive Program, TURN LAND, TURN FES and the TURN Meeting.
*1 From TURN NOTE: Words from TURN 2016 (Arts Council Tokyo, 2017)
*2 From TURN JOURNAL 2018 (Arts Council Tokyo, 2019)
|TURN's four constituent programs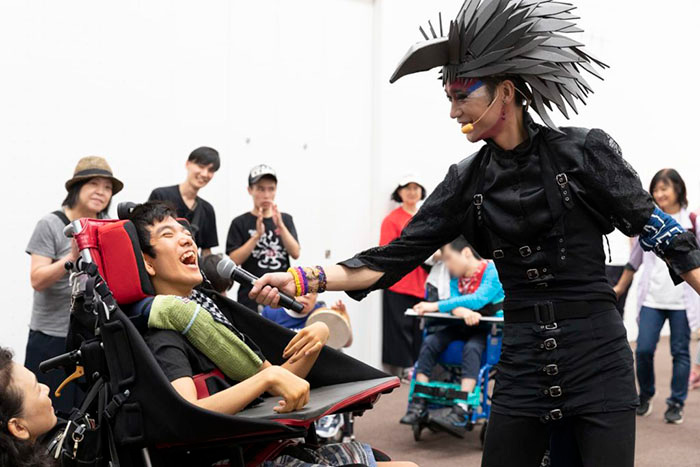 TURN Fes 4 Photo: Ryohei Tomita
◆ TURN Interactive Program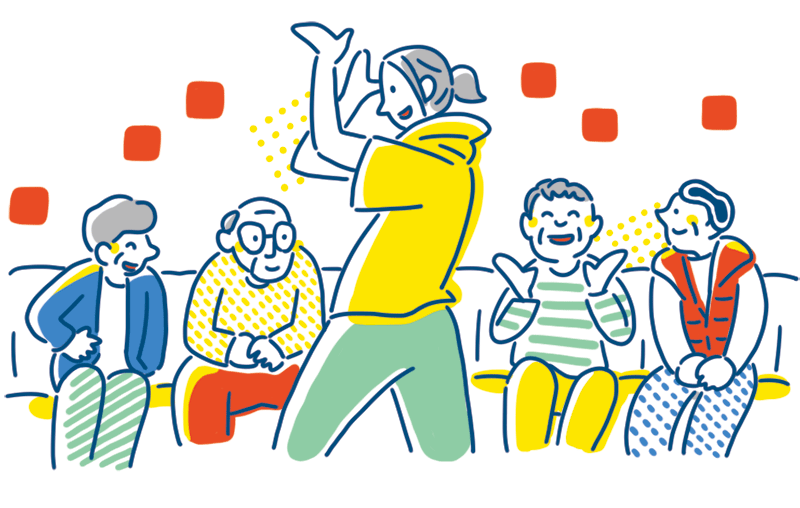 In its 5th year in 2019, TURN is broadly expanding its activities to develop a sustainable project from the connections already created. The TURN Interactive Program, an exchange between various facilities, communities and artists within Tokyo, continues with last year's participants, including dancer Kaiji Moriyama and artist Katsuya Ise.
◆ TURN LAND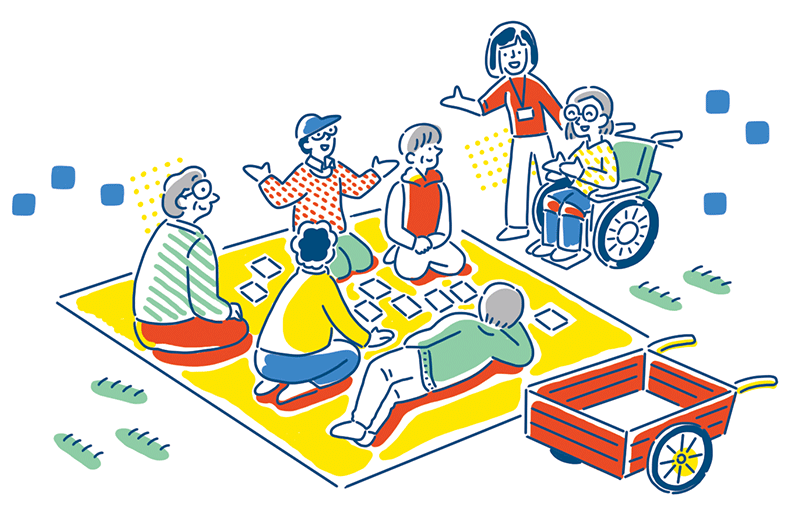 TURN LAND creates a place to enact TURN on a daily basis, gently connecting welfare facilities and communities with the local area.
This year, disability welfare facilities such as Itabashi-ku's Komone Fukushien and Harmony in Setagaya-ku, as well Atelier La Mano in Machida, will each be working with artists on various activities.
◆ TURN FES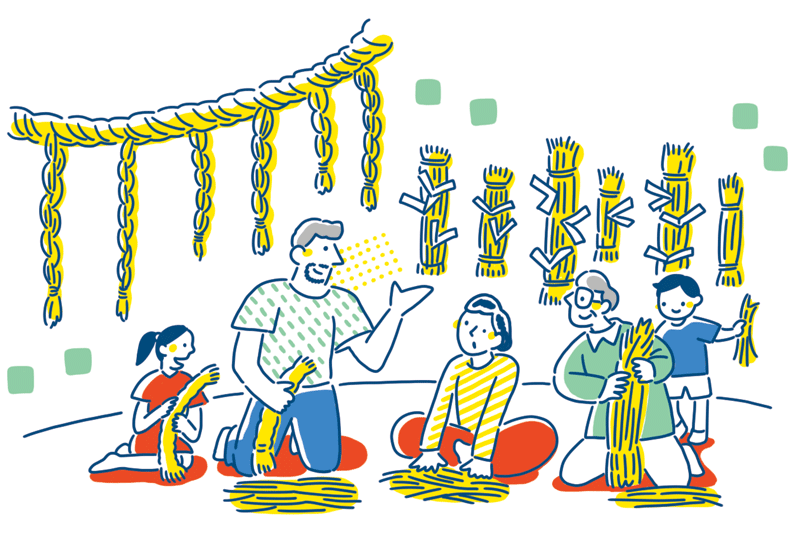 TURN FES is a festival at which a variety of artists and groups gather once a year to participate in activities, including the TURN Interactive Program and TURN LAND. Various programs are held simultaneously and repeatedly every day, including exhibitions, workshops, and talk events.
This year, TURN FES 5 will be held at the Tokyo Metropolitan Art Museum, August 16th (Friday) through 18th (Sunday) and 20th (Tuesday), for a total of four days.
◆ TURN Meeting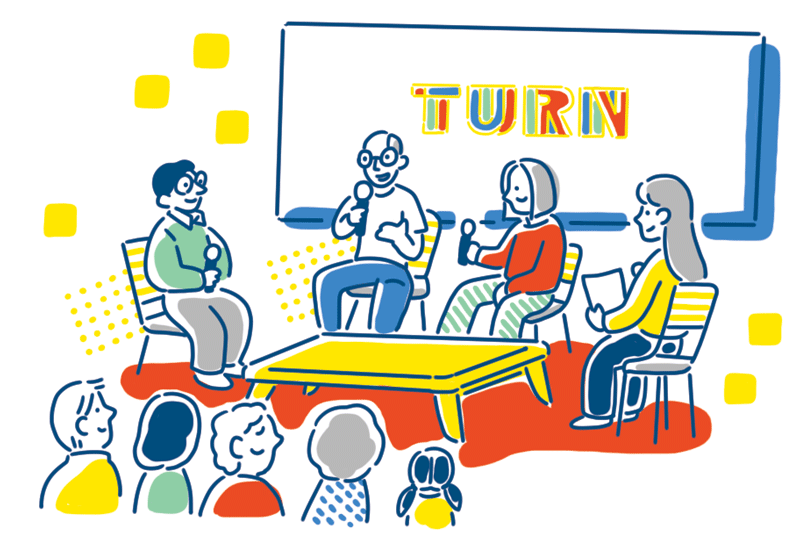 The fourth and final program is the TURN Meeting, a one-day event inviting special guests to speak and hold discussions about TURN. This year's meetings are schedule to be held in May 12th,2019(Sunday), November 17th,2019(Sunday), and February 2nd,2020(Sunday).
TURN explores individuality and diversity through art. With 2020 close at hand, this year's activities are not to be missed. Stay tuned for details about each event on TURN's official site (https://turn-project.com/en/)!