Toshiko Okanoue is a photo collage artist from Japan. She was only active for a short time—seven years in the 1950s—but she has again attracted attention today. An exhibition of her work, Toshiko Okanoue, Photo Collage: The Miracle of Silence is being held at the Tokyo Metropolitan Teien Art Museum (Jan. 26 – Apr. 7, 2019). Just how has she managed to gain so much attention across the generations to today?
What's Great About Toshiko Okanoue
In a chigiri-e (a Japanese form of collage using colored paper) class in 1950, Toshiko Okanoue noticed a woman's face in profile in a scrap of paper. She thought it was interesting, so she began to create photo collages on her own, without a teacher. The materials she used for her pieces included LIFE, Vogue, Harper's BAZAAR, and other contemporary magazines which had been left in Japan as parting gifts from the Allied forces after the war. Her work caught the eye of Shuzo Takiguchi (an artist and art critic), with whom she had a friendly relationship. Takiguchi highly praised Okanoue's work, and produced an exhibition of it. Without any professional art education or experience to speak of, Okanoue began to receive attention from many onlookers.
However, after getting married in 1957, presentation of her work all but disappeared.
Okanoue's work, for which she boldly clipped cutting-edge photographs of the time, restructuring them into something elegant, is quite novel even today, more than 50 years since its creation. Since the 2000s, it has been garnering attention yet again.
On display in this exhibition are some of the magazines Okanoue actually used as materials for her collages, as well as dresses from the 1950s that fascinated her, allowing you to feel the atmosphere of that time period.
Curator Ms. Jimbo Talks About the Appeal of Toshiko Okanoue's Work
Ms. Kyoko Jimbo, the curator in charge, pointed out and commented on some wonderful highlights of Okanoue's pieces for us.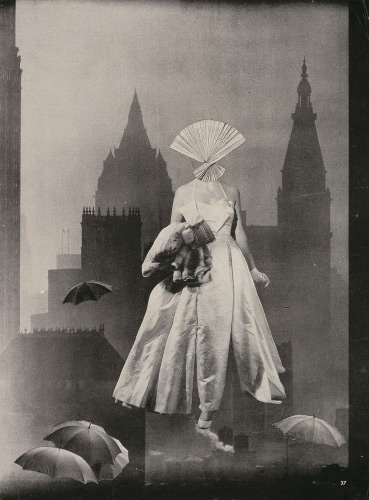 《Visit in Night》 ©Okanoue Toshiko,The National Museum of Modern Art, Tokyo
Jimbo : Visit in Night is an all-around exquisite piece, from the ratio between the sizes of the fan and the human figure, to the overall balance, contrast, and composition of the collage. If you use a computer today, it's easy to shrink or stretch photos, but to compose something like this just with photos from a magazine is fantastic. Also, Okanoue is incredibly dexterous—even if you look at the piece up close, you can't tell where the edges of the pasted photos are. It's all cut and pasted quite beautifully.
Jimbo :Okanoue looked down from Dogenzaka at Shibuya, which had been burned down during the air raids in May 1945, during the war. That scene must have left a strong impression on her. In LIFE magazine, journalistic photos of war in various countries around the world at the time were published, as well as the serialization of experimentation with nuclear weapons and hydrogen bombs. She projected her own experiences onto her work. Melody of Ruins has a unique beauty, created by the collage of a woman dressed in fashionable clothes and the desolate landscape around her.
《Leda in the Sea》 ©Okanoue Toshiko, private Cllection
Jimbo : Leda in the Sea is Okanoue's favorite piece. At the same time creating the motif of a woman living freely after the war, she wanted to express the sadness of that woman, who also bore anguish. Collages can be gorgeous, coquettish, or give a variety of other impressions to the viewer, but they can also be expressions of healing for the viewer as well. Multiple layers of meaning and structure can be found even in a single piece.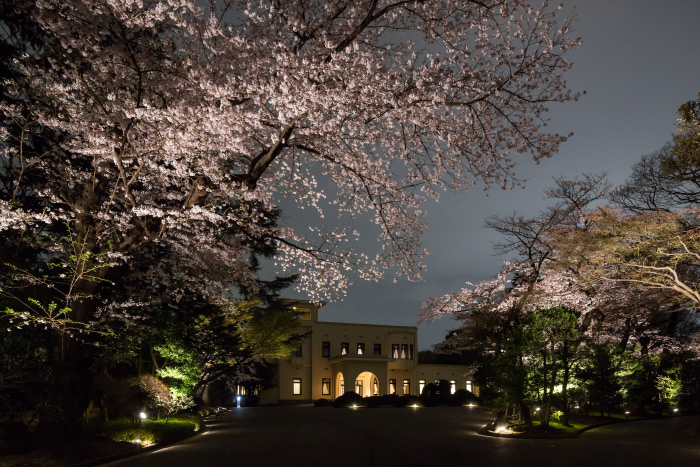 A dreamlike scene: the museum open at night, with illuminated cherry blossoms
The Tokyo Metropolitan Teien Art Museum will be open at night on March 29th (Friday), 30th (Saturday), April 5th (Friday) and 6th (Saturday) until 8:00 p.m., while the cherry blossoms are in bloom. Please come enjoy the sight!
| Toshiko Okanoue, Photo Collage: The Miracle of Silence Exhibition Information
Dates:Saturday, January 26 – Sunday, April 7, 2019
Opening Times:10:00 – 18:00 (Last admission: 17:30)
March 29, 30 and April 5, 6 opening until 20:00 (Last admission at 19:30)
Venue:Tokyo Metropolitan Teien Art Museum
URL:www.teien-art-museum.ne.jp/en/exhibition/190126-0407_okanoue.html
Original text: Moyo Urashima