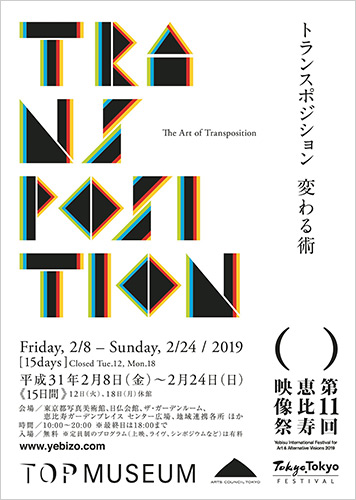 The Yebisu International Festival for Art & Alternative Visions is an annual event held the town of Ebisu, Tokyo, with the Tokyo Photographic Art Museum (TOP Museum) as its focal point. This year, the 11th edition, hosts 79 artists and guests from 26 countries over 15 days from February 8th to 24th (closed on Tuesday 12th and Monday 18th).
Each year the festival delves into new paths of creativity in moving image and art along different themes.
This year the featured theme is "The Art of Transposition" – of converting positions, perspectives and cultures into alternatives. Through a wide range of national and international pieces of work, thoughts related to "changing perspectives and opening up the future" are developed.
Do not miss! Three must-see pieces
As the festival holds not only exhibitions, but also a wide variety of programs – including screenings, live events and symposia – some of you may be at a loss for where to start. We asked Keiko Okamura, director of the festival / curator at the TOP Museum, for her recommendations. Here we detail three highlights that enable you to more deeply explore various "transpositions", such as changing, replacing and moving.
| Highlight 1: No Ordinary Protest, Mikhail Karikis at TOP Museum, B1F exhibition gallery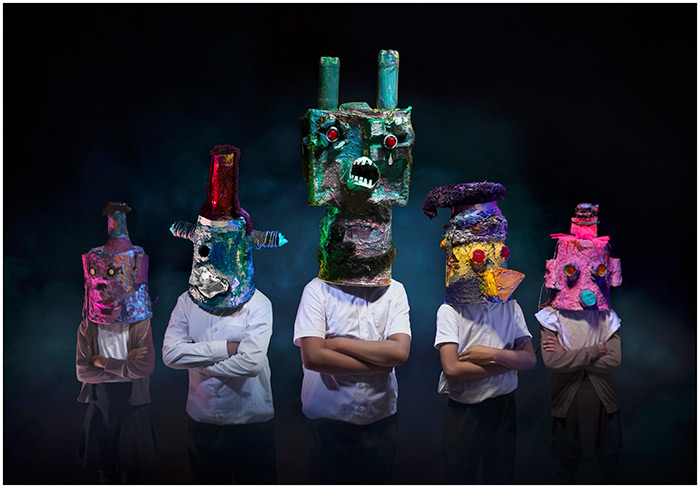 Mikhail Karikis No Ordinary Protest (2018)
Commissioners: Whitechapel Gallery, FVU, MIMA
Mikhail Karikis, a Greek-British artist who develops cross-sectional expression through film, music and performance, produced this piece with 7-year-olds from London. They protest on behalf of the creatures who suffer as a result of environmental issues – and the work gradually comes to convey their own perspectives.
In the piece, the children use ordinary items as musical instruments, and it is worth paying close attention to the way that unexpressed ideas are visualized, for example in the way patterns created from sound waves are used in the background of the film. It is a piece that potentially holds the power to change the world, even if that power is emitted from a seemingly small protest by children.
| Highlight 2: platter, Sawa Hiraki at Yebisu Garden Place, Center Square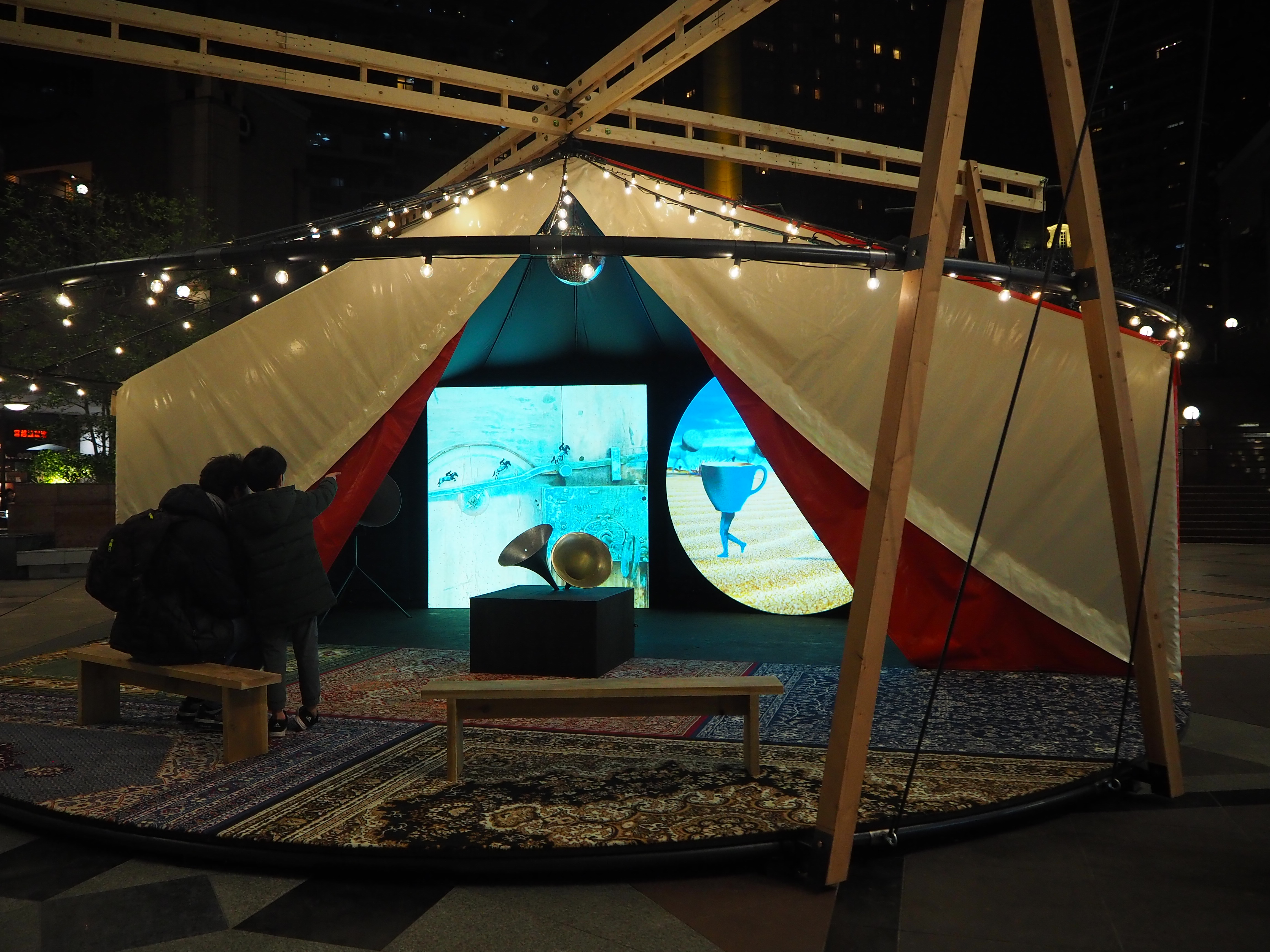 SAWA Hiraki platter (2019)
This work breaks out of the museum and into the outdoors. In the Center Square of Yebisu Garden Place stands a large round space: this installation is platter, a new work by Japanese visual artist Sawa Hiraki, who works on the imagination of viewers while creating landscapes that defy reality. Before film projectors, traveling lantern-slide projectors that toured around were a popular and familiar form of entertainment. The tent Sawa creates, resembling a show booth, embodies his image of those times in a symbolic piece connected to the theme of "changing along with spaces and situations".
What will you experience there? Visit and find out for yourself!
| Highlight 3: A Screening Where Babies are Welcome: Sherlock Jr. Buster Keaton (1924) at TOP Museum, 1F Hall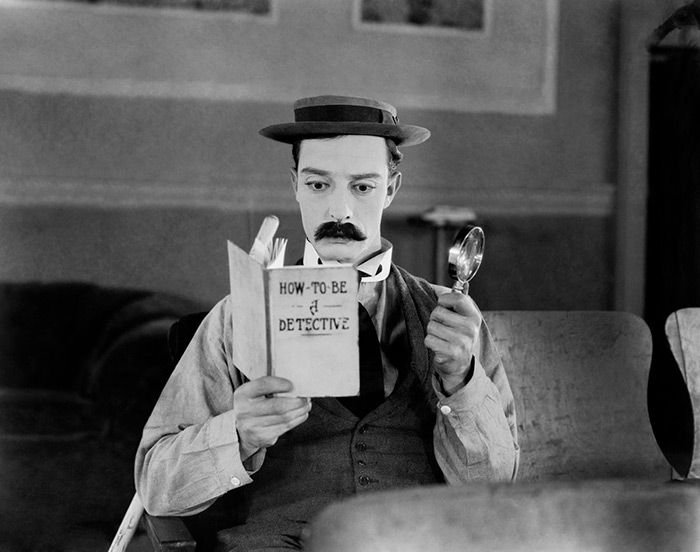 Buster Keaton Sherlock Jr. (1924)
At 13:00 on February 17th, the festival holds a screening for the whole family – including infants. Directed by and starring Buster Keaton, Sherlock, Jr. sees Keaton as a film projectionist and detective-in-training, for whom nothing works out in reality. Falling asleep, he dreams that he moves into and out of the film world as a detective on a case, demonstrating precisely what the theme of the festival is all about. Although it is from an era before computer graphics, the spectacular action scenes keep you on the edge of your seat. In this event, you are free to chat about the film during the screening, so a whole family can share their enjoyment of Keaton's wonderful comedic acting.
Additionally, after the special screening of Sherlock, Jr. there is an interactive viewing workshop, "Children Meet Cinema Ciné-Club @ YEBIZO 2019", for primary school children. This workshop is advance booking only, with a maximum of 15 participants between the 1st and 6th grades.
Participants will discuss the film in teams, reenact a scene together, and even shoot it! The resulting scenes will also be screened. Expressing experiences, and learning and sharing various opinions will enable them to discover new charms in film, and new pleasure in viewing.
| Guided Tours
For those who are visiting the festival for the first time, who also want to understand the pieces and themes more deeply, we recommend the free guided tours.
1) Comprehensive Festival Tour [90 min./in Japanese]
Touring the whole site of the festival provides a comprehensive view of the theme of transposition. It is a standard tour. On the 17th a sign language translator will be present.
Time and date: 15:00 Monday, February 11 (National Holiday), 11:30 Sunday, February 17
2) Easy to Understand Japanese Guided Tour [90min./in Japanese with summarized English interpretation]
A guided tour with simpler language and explanation. An enjoyable tour for everyone, from children to adults, and also for those learning Japanese.
Time and date: 15:00 Sunday, February 17, 11:30 Sunday, February 24
3) Guided Tour on the Transposition of Differing Cultures and Perspectives [60 min./in Japanese]
We welcome Mōri Yoshitaka, a sociologist and professor at the Tokyo University of the Arts' Graduate School of Global Arts, as the navigator who will guide participants though the theme of transposition, looking at a few selected artists and pieces from a sociological perspective.
Time and Date: 18:30 Wednesday, February 20
See here for details of guided tours, such as dates and times and how to sign up.。
In addition to all of the above, every day there are experimental live sessions by passionate artists, lounge talks and symposia featuring artists and guests – so many events that we do not have space to introduce them all here.
Moreover, partnership programs with 13 galleries and cultural institutions in Ebisu and locally organized talks will also be delivered under the title of YEBIZO MEETS. With the exception of those with a limited number of participants, you can enjoy these programs at no cost, so do check them out on the official website.
| The Yebisu International Festival for Art & Alternative Visions 2019:
The Art of Transposition Outline
Dates Friday, February 8 – Sunday, February 24, 2019 [15 days/Closed Tue. 12, Mon. 18]
Hours 10:00 – 20:00 (Closes at 18:00 on the final day, Sunday, February 24)
Venues Tokyo Photographic Art Museum, Maison franco-japonaise, The Garden Room, Center Square of Yebisu Garden Place, related cultural facilities, galleries, etc.
Admission Free (Admission will be charged for screenings and other events with limited capacity)
URL: www.yebizo.com