To coincide with the Tokyo 2020 Olympic and Paralympic games, Tokyo Bunka Kaikan and the New National Theatre Tokyo present their first co-production: "Summer Festival Opera 2019-20 Japan↔Tokyo↔World". For 2019, in the run-up to the Olympics, a production of Puccini's posthumous work "Turandot" will be performed at four theatres in three cities – Tokyo, Otsu and Sapporo – for a total of eleven performances.
A live talk was hosted on the 1st of September,2018 in the Tokyo Bunka Kaikan Recital Hall with two of the production's performers – Ryoko Sunakawa (soprano) who will be playing slave-girl Liù, and Toshiaki Murakami (tenor) who will be playing the eunuch, Pong. Immediately before the talk, the two had just performed on this very same stage in the starring roles of Tosca and Cavaradossi in "Tosca". Chairing the talk was Satoshi Asaoka.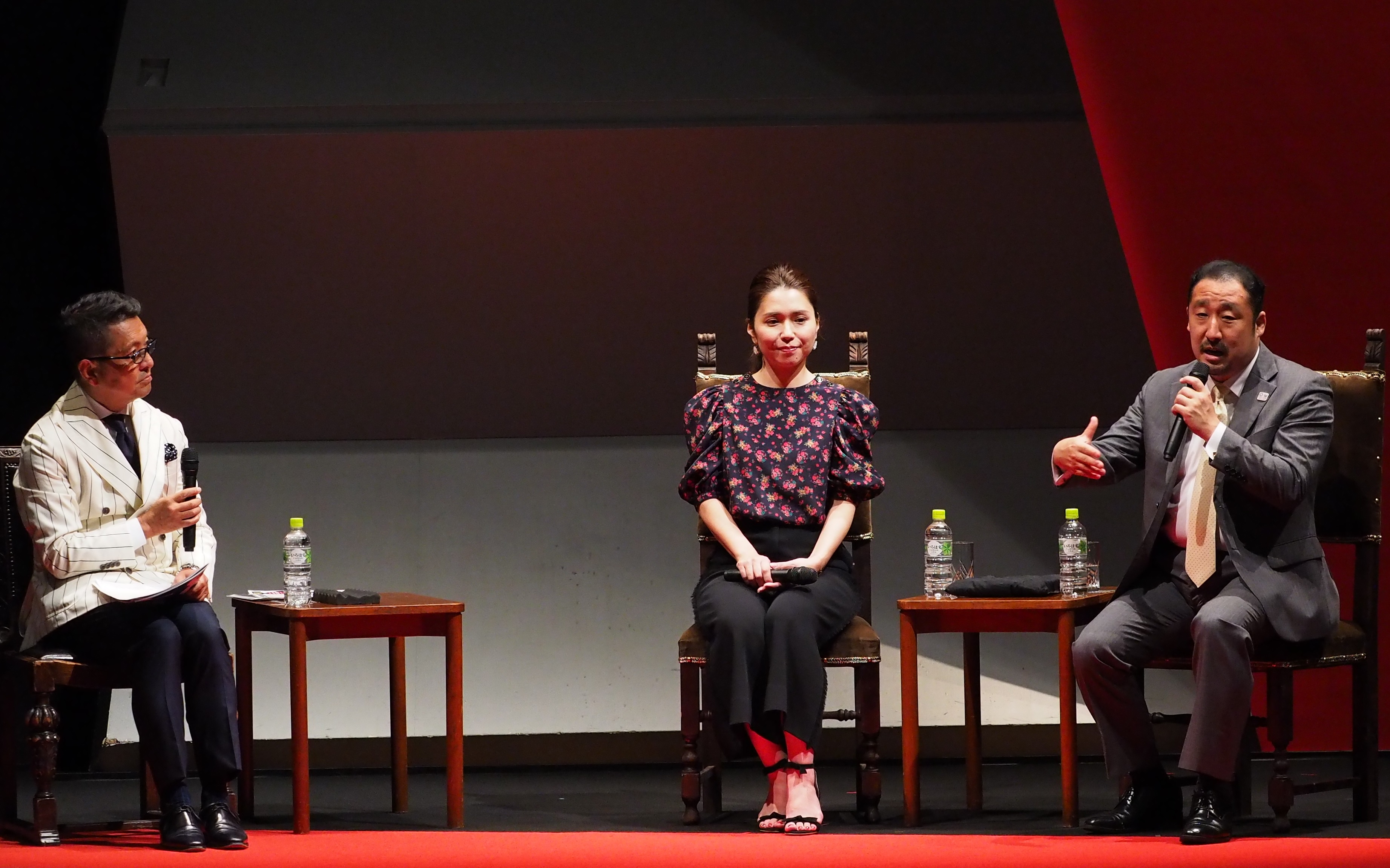 The talk event had a friendly atmosphere. ©︎Tomoko Hidaki

Asaoka: You just finished performing as Tosca, and we've heard you'll be playing Liù next. As a singer, what is it like to play Puccini's heroines?
Sunakawa: From all that I've read, and discussed with the directors I've worked with, I've come to realise that Puccini's heroines represented his idealised view of women. Tosca is fierce and passionate, but with an endearing side, while Liù serves Prince Calaf with great courage. When I think of how these characters were written from a male perspective, it inspires me to take great care in how I perform them.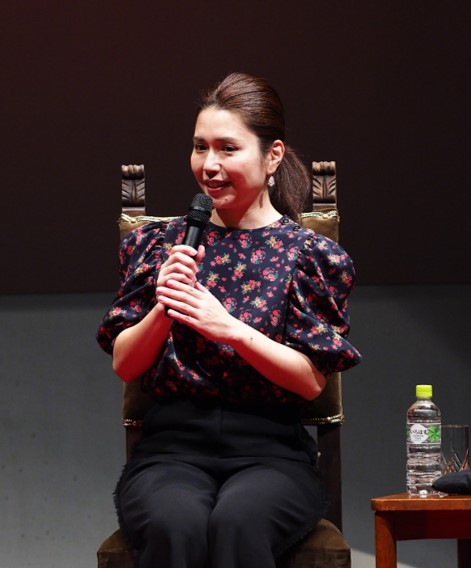 Ryoko Sunakawa, who will play Liù. ©︎Tomoko Hidaki

Asaoka: Murakami-san, you'll be playing the minister, Pong, yes?
Murakami: My character, Pong, is one of the three characters, Ping, Pang and Pong, who represent the Chinese people in the play. In the first scene of the second act, they sing about how, while they serve the emperor and Turandot as government officials, they are also people in their own right. They have their own households and families, and their own hometowns, which they take turns to sing about, rotating on the stage like clowns. That part of the opera is very human, I think. When Prince Calaf applies for Turandot's hand in marriage, they tell him to give it up, spinning around as they sing. They're almost like comedians. While ultimately Pong is an official who occupies a position of dignity, he also has a comedic aspect, which makes it a difficult part to play.
There were many people in the audience who are diligently taking notes, and the singers' words inspire great interest. Mr. Asaoka brings up the topic of "art competitions" which used to be part of the Olympic Games, including music, painting, architecture and literature.
Sunakawa: I think singers and athletes have certain things in common. The daily training isn't as harsh, but we singers also use our bodies, and exert ourselves. I'm not that muscular though (laughs). I love figure skating, and naturally feel a sense of empathy with the performers as I watch. When they do their spins, I think it has a similar significant to when a soprano shows off her upper vocal range.
Murakami: I agree. And for us singers, it's not enough just to produce a good vocal – we have to create a nuanced performance by adding tone to our voices, and acting in a convincing way. That's also why I think I need to lose a little weight. I should be better looking (laughs). These days, you need to be strong in all areas, appearance included.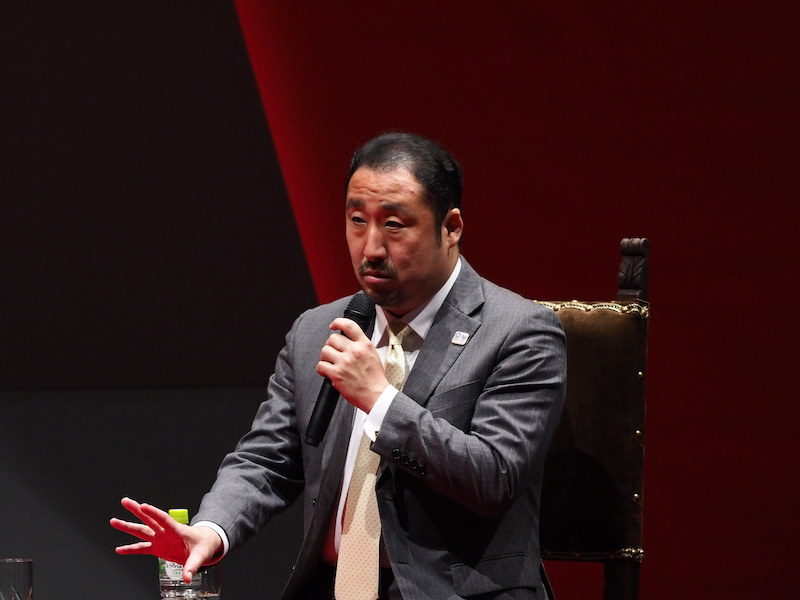 Toshiaki Murakami, who will play Pong. ©︎Tomoko Hidaki

Sunakawa: Putting the vocal aspect aside, opera singers are also required to make their mark through their physical performance. You have to help the music hit home through your breathing and facial expressions, and give a frank and open performance. These days, standards are high and the acting component of the performance has to be polished every day.
Alex Ollé, who will direct the production, is a member of Spanish theatre company La Fura dels Baus, and directed the opening ceremony of the Barcelona Olympic Games. He apparently thinks that happy endings are unrealistic.
Murakami: Puccini died after writing "The Death of Liù", so his pupil, Alfano, completed the opera. However, twenty years ago the modern Italian composer Luciano Berio wrote his own version of the score to the same libretto. I'm curious about how that version concludes.
The two singers gave their thoughts on Kazushi Ono, who from this season will take up his post as opera director at the New National Theatre Tokyo, and lead the "Summer Festival Opera" event.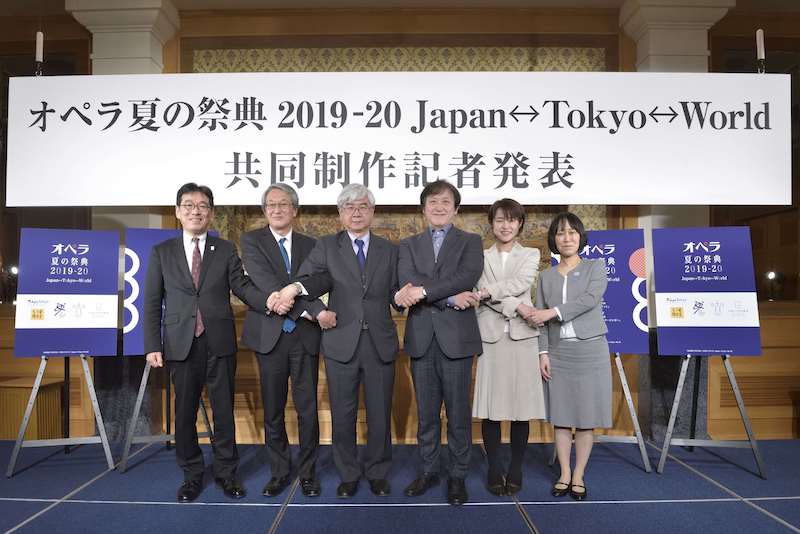 The official press announcement of the co-production. Kazushi Ono is third from the right. [Dec.21,2017] ©︎Rikimaru Hotta

Sunakawa: I performed with Mr. Ono for the first time last year, at an event where he gave a lecture while playing the piano. He's usually a quiet person, but when he gets going he's quite mischievous. I feel honoured to be able to perform alongside him in an opera.
Murakami: I also performed with him at last year's concert, but even before that I was a chorus member under his direction many times since the early days of my career. He's developed his amazing talent over the years, and been director at major theatres in Europe. I think his extraordinary ability contributed greatly to the Tokyo Metropolitan Symphony Orchestra, under his direction, becoming the "super orchestra" that it is now. I'm looking forward to working together with him once again.
The 45-minute talk covered such diverse topics as Puccini's idealised heroines, and what is demanded of the modern opera singer. The audience watched in rapt attention throughout. The event raised anticipation for this upcoming large-scale opera project, and we can't wait for the actual show.
Summer Festival Opera 2019-20 Japan↔Tokyo↔World Pre-event
Today is Opera Day
【Date】Nov. 24 Sat., 2018 15:30-16:30
【Venue】KITTE 1F Atrium Event Space
【URL】http://www.t-bunka.jp/stage/host_11139.html
Summer Festival Opera 2019-20 Japan↔Tokyo↔World
Puccini's Turandot (Three acts/Performed in Italian with Japanese subtitles) New production
【Date】Jul. 12 Fri.,2019 18:30-, Jul.13 Sat.-14 Sun., 2019 14:00-
【Venue】Tokyo Bunka Kaikan Main Hall
【URL】https://opera-festival.com/
Text:Hisae Odajima