Interview: Tomoko Yabe, Photos: Tatsuro Kakishima (Pointer), Hair & Make: Tatsuya Ishizaki
Right now, all my dreams are coming true

Right now it feels like all my dreams are becoming reality, beginning with my first ever solo exhibition, "NAKAMA des ARTS" in the Carrousel du Louvre Charles V Hall in Paris as part of Japonismes 2018 last autumn, to my first solo exhibition in Japan, "BOUM! BOUM! BOUM!" at IHI Stage Around Tokyo's rotating theater, which ran from March until June this year. And now, the first museum I'm visiting after my own solo exhibitions is the Museum of Contemporary Art Tokyo – and I'm really enjoying myself! While I love painting my own pictures, I also love seeing a range of art in a museum like this. I feel that my perspective has suddenly shifted since becoming an artist myself. When it comes to putting on your own exhibition, there are so many decisions to make and things to think about. I like the benches placed in the inner courtyard so visitors can take a break, and the new artworks called "o to da te" that are located in various places are really interesting! From the moment I stood on top of one of the plates with an ears-and-feet mark and began listening, it seemed like my ears functioned completely differently than usual. It was very stimulating to take in some artworks for the first time in a while after focusing so much on my own output.
I visited the Museum of Contemporary Art Tokyo over 10 years ago for the "Shinro Ohtake Zen-kei: Retrospective 1955- 2006" exhibition. I was very motivated to experience new things back then. At my recent exhibition I presented a work made from my own hair accumulated over ten years. A lot of people ask me why I kept my hair, but I think that Ohtake exhibition may have been the reason. I definitely think Ohtake's influence can be found in my own exhibition.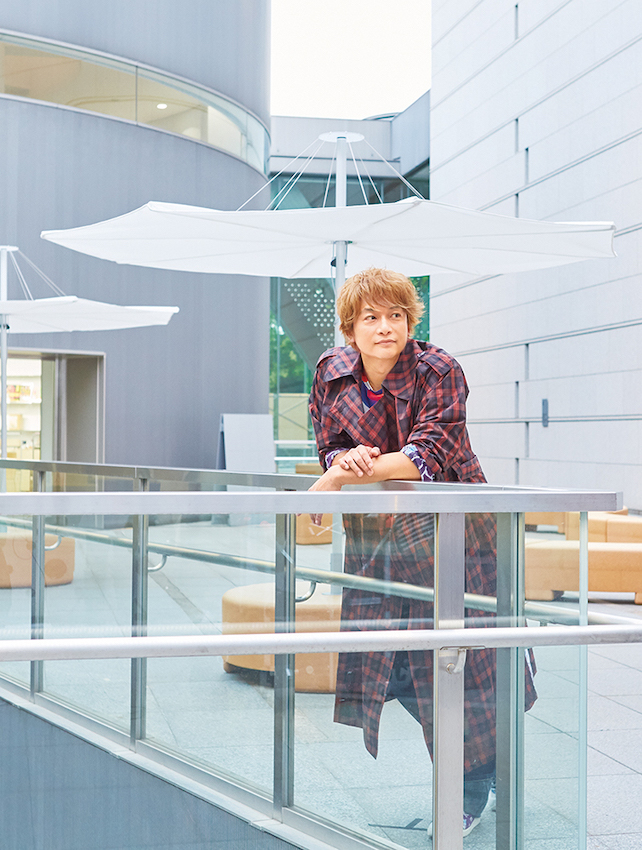 Museum of Contemporary Art Tokyo, inner courtyard
The desire to create is like a pounding in the chest
When I'm looking at pieces at an exhibition, I immediately feel the desire to create, like a beating deep inside my chest. Whether it's a picture or an object, I'm overwhelmed by a feeling of "Ah! I want to make something like this!". People on the internet often criticize media personalities who try their hand at art as fakers, and I've even thought that myself. But looking through my storage, I found paintings that I did in my teens, and I also had pictures featured in idol magazines, so really I've been doing art for around 30 years. It didn't come out of nowhere (laughs). Looking back on my childhood, I used to doodle on my notebooks and textbooks, and even on the desk. It was much easier when I started drawing in a sketch book! Later, I wanted to work on a larger scale, and I started drawing during breaks while working on dramas or variety shows, on pieces of corrugated cardboard that were lying around. I started painting on canvas when I was about 30. I had no formal art education, so when I was making pictures with magazine clippings and someone said, "So you do collage as well," I learned that what I was doing was called "collage" (laughs).
Since becoming active as an artist, I've really taken strength from something Tadanori Yokoo told me. He said, "Having changed direction myself from graphic design to art, a lot of people spoke harshly of me, as I'm sure they will of you. But go ahead and paint, if painting is what you want to do." If he hadn't said that at just the right moment, I don't know if I could have put this kind of passion into producing a solo exhibition.
I want to express a side of Shingo Katori people haven't seen before
For me, art is a place to express myself. With music and acting, it's a collaborative effort with directors and staff, but with art you can decide everything from start to finish yourself, and that's a lot of fun for me. I often work with Koki Mitani, but through my art I can express "Shingo Katori" that Mitani can't bring out. Unlike when you're a component being utilized by someone else, you have permission
to do anything and nothing is off-limits (laughs). I haven't yet thought about what comes next, but there's a lot I still want to show. At my first exhibition in Paris, I was thinking, "What's this guy going to do next?", but now doing another exhibition at a theater, I feel like I've surpassed myself (laughs). I believe I'll be able to surpass myself again next time.
Next year the Olympics and Paralympics will be held in Tokyo. I've been studying about parasports for a few years now, so I really hope the Paralympics Opening Ceremony will see a lot of people participating. With the world's attention on Japan, it's a great opportunity to share our culture, and I would be so happy to be a part of that. Since turning 40, I've gained a greater appreciation for Japanese culture. I myself wish I'd learned to appreciate it sooner, so I'd like to encourage people in their teens and twenties to learn about Japanese art and old traditions as soon as they can.