Interview: Tomoko Yabe, Photos: Tatsuro Kakishima (Pointer), Stylist: Aya Kurosaki (Linx), Hair & Make: MAKI (Linx)
Interview at Tokyo Metropolitan Edo-Tokyo Museum
※The information posted is information as of March 2019.
Materials contemporary to Idaten

 I'm currently appearing in the NHK Taiga drama, Idaten 〜Tokyo Olympic Banashi〜 in the role of Honjo, a pioneering female journalist of the Meiji era.  In one scene, she visits the Ryōunkaku – a building known at the time as "Asakusa Junikai" (Asakusa Twelve-Stories), so my eye was naturally drawn to the model of that building they have here.It's amazing that it even had elevators in those days.
Honjo would be described in later years as a "modern girl" – quite unlike myself – so it was fun to play a totally different person. There's a Taisho-era hat on display in the Tokyo Zone of the museum which is really cute. I tried on a very similar one during a costume fitting session. I think Meiji and Taisho era fashions look wonderful, even now.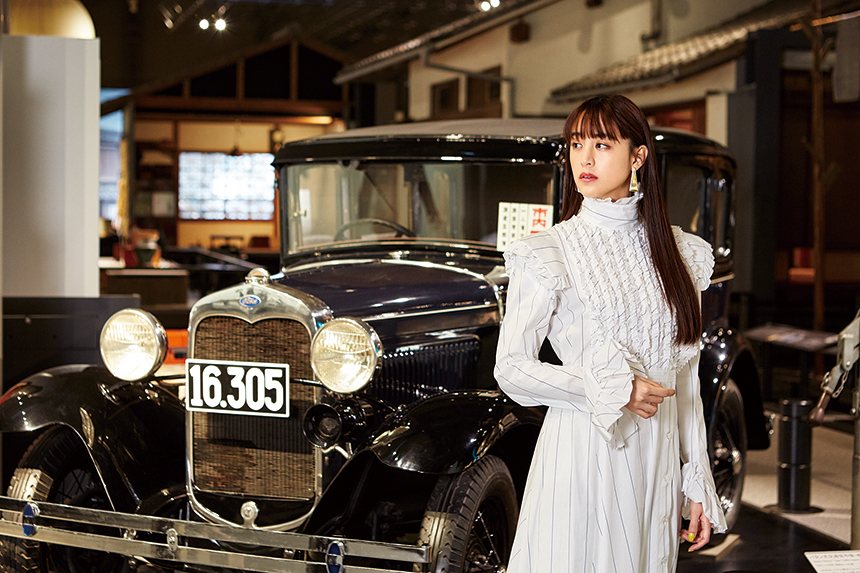 Ford Model A (used as taxis)
Looking forward to seeing how Tokyo will change with the 2020 Olympics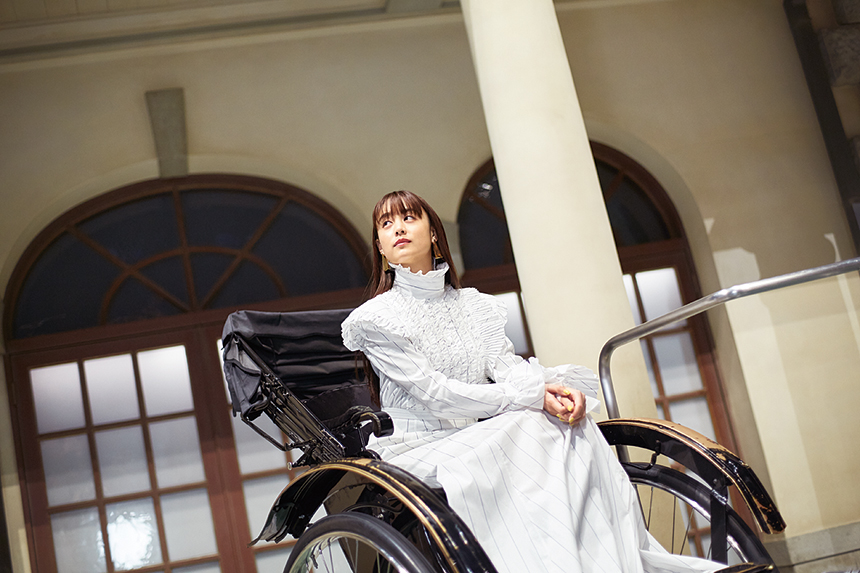 Rickshaw (model)
I got a proper look round and found it all really interesting, from the replicas of Edo period playhouses and Meiji era newspaper offices, to the rickshaws and palanquins used by the feudal lords that you can actually sit in. I think the Ford Model A – the kind of car used as a taxi in the early part of the Showa era – is really cool. I previously played a car designer in a TV drama, and since then I've found the history of vehicles a really fun subject.One corner has a display of objects that were popular in each generation, from the post-war "Japanese economic miracle" period to the present day. I felt quite nostalgic seeing an old kick scooter from the late 90s.  The displays under the theme of "Tokyo and the Olympics" were also really interesting. I'm quite an indoor type of person and I don't actively watch sports, but through appearing in Idaten,I've begun to develop an interest. I'll be paying close attention to see how Tokyo changes through hosting the 2020 Olympics and Paralympics. I think transportation will become more convenient,accommodation facilities will increase, and the city itself will change.I look forward to seeing the even more international Tokyo of the future.
I prefer cel animation to digital and CG animations
I like Japanese manga and anime and I often go to manga artists' exhibitions. I've loved manga and anime for as long as I can remember, but one that stands out in particular as shaping that love would probably be Sailor Moon. I particularly like the cel era of animation. I think digital and CG animation is also great, but I really enjoy watching moving images that have been hand-drawn. I also draw, but I'm not used to drawing digitally so I'm practising at the moment.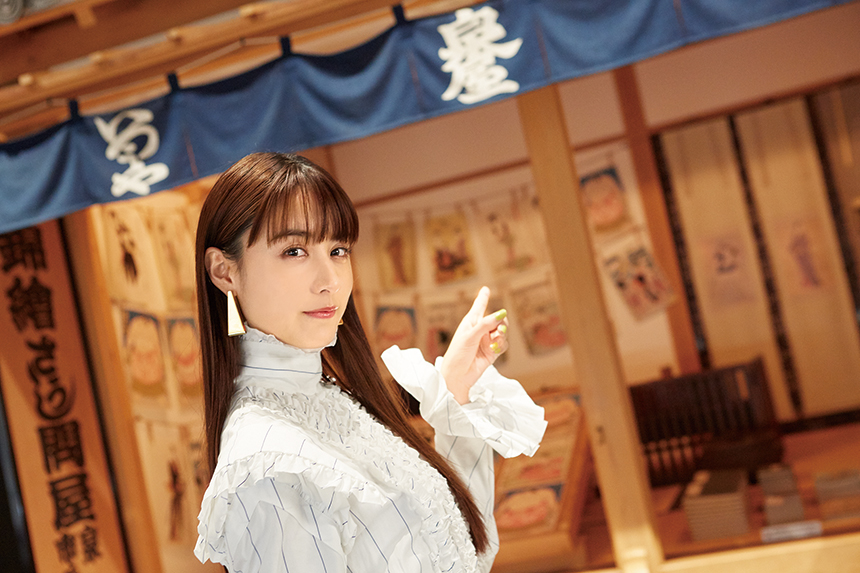 Bookstore of light fiction (model)
I go to galleries and museums quite a lot,and I recently went to the Pierre Bonnard exhibition at the National Art Center,Tokyo with my mother. Bonnard painted some really cute cats, and as an animal lover I couldn't get enough of them. When it comes to Edo period painting, I like Ito Jakuchu's pictures of surreal animals and fluffy dogs. I think people back then, like us now, were overcome with how cute animals are as they drew them.