Interview: Hitomi Hasegawa, Photos: Tatsuro Kakishima (Pointer), Stylist: ROOMS Co.,Ltd., Hair & Make: takane (allure)
Interview at Tokyo Bunka Kaikan
※The information posted is information as of July 2018.
Between sport and art
Figure skating is a fusion of sport and art. Judging the artistic aspect can be difficult because our feelings differ from one another, but it helps refines your taste. When I was studying modern ballet, there were many times where, in my posture was perfect – but it wasn't. Some things you can only master through single-minded repetition. When you can find the beauty in the skill of an athlete's movements, it develops your artistic sense. The great variety that exists in art is only possible because of the variety in people's tastes.
During my active career, I've skated to a lot of different tracks, from classical pieces to songs from musicals, jazz music and even The Beatles. If I had to pick one memorable track, it would be the one I used for my free skate at the 2010 Vancouver Olympics – "Guitar Concerto". Because I was skating on the Olympic stage it remains the most important piece of music to me.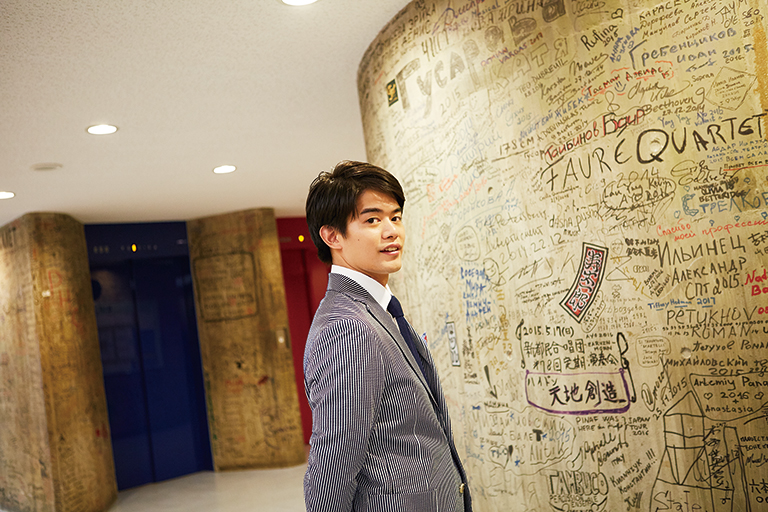 A place for artists to aspire towards
Seeing the backstage area of the main hall, where so many performers have left their signature, it made me realise how the Tokyo Bunka Kaikan is a place to aspire to for performers. I was trying to think if there was an equivalent for figure skaters, I think it would be an event – like the Japanese Championships or the World Championships, or the Olympics.
Even before I heard that this building was a signature work by the great architect Kunio Mayekawa, I could sense just by standing here that I was in a special place. The acoustics are so spectacular in the main hall that when I was on stage, I suddenly felt like bursting into song (laughs)! It must feel really good to perform here.
The music library on the 4th floor (holding 133,000 pieces of audio) was also really interesting. The collection is so huge that you can choose from versions of the same piece with different performers and conductors. It's great that you can study the artistry of all this music for free.
Promotional work through motor sports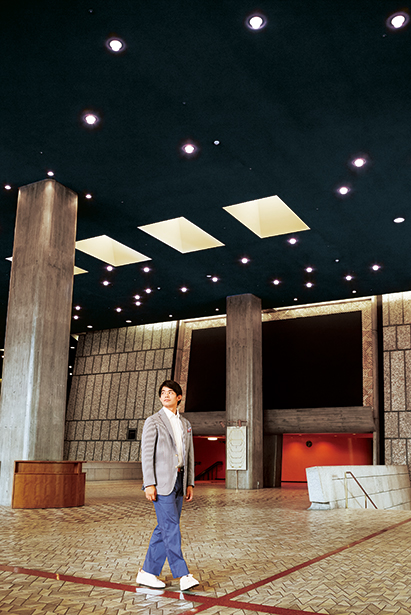 Since retiring from competition two years ago, I've wanted to encourage more people to get interested in and try sports for themselves. I feel that if I don't understand something about the sport myself I won't be able to get the message across, so I've decided to give various different sports a try.
I started motor sports back in February, deciding to compete in the 86/BRZ Race. A while back, Akio Toyoda, the president of Toyota, told me he was competing
in rally driving, and that it was a lot of fun. When the opportunity came up, I remembered what he'd said and decided to something better than existing models. for myself.
When it comes to figure skating, I'm working on development of skate blades. I wondered if Japanese craftsmanship would come up with something better. Now after six years of work, we finally produced a line I feel is worth releasing. It would be great if top skaters and young hopefuls chose to use our blades in future.
When you watch figure skating, or any sport, and it leaves an impression on you – whether it be an aspect you found interesting, or a way of looking at things – you'll find it easier to try the sport for yourself when you get the chance. I feel it's my role to pass that idea on to as many people as I can, and work to spread the appeal of sports.