Text: Seiichiro Furusawa, Photos: Tatsuro Kakishima (Pointer), Stylist: Takafumi Tsukamoto, Hair & Make: Mio Matsumoto (GON.)
Interview at Tokyo Metropolitan Teien Art Museum
※Photos of the works with comment were from the exhibition "Decoration nevere dies, anyway" (〜Feb. 25 Sun.,2018). You can not watch it now.
※The information posted is information as of March 2018.
Tokyo Metropolitan Teien Art Museum is…katsu curry?
Appreciating museum art takes a combination of imagination and observation. If you love manga and anime like me, you'll definitely have fun at an art museum. I was amazed from the moment I entered the entrance hall, with the glass doors featuring a standing female figure surrounded by a backdrop of open wings design. I had thoughts like "I wonder if the nightmare scene from "Puella Magi Madoka Magica" was inspired by something like this", or "They went to France and were inspired by something like this", or "I've seen the photographs that Shigeru Yoshida was sitting here!". I found it all very impressive.
We humans are born for the purpose of activating the synapses in our brain, and the brain's electrical signals are the stimuli. As long as we can get a lot of different stimuli, we'll be happy. With that in mind, this visit to Tokyo Metropolitan Teien Art Museum that has history both as a state guest house and as an exhibition space, you can say I got two kinds of stimuli. I suppose its a bit like katsu curry in that way (laughs).
 Yoshikazu Yamagata 《The Seven Gods, from "THE SEVEN GODS -clothes from the chaos-",the 2013 SS collection》
The power of the "originator"
I have a talent for amusing myself; it's something I have confidence in. If I can manage to approach things in a fun way, then I'll definitely enjoy myself. Nowadays everyone views things – comedy, TV – everything – with a critical eye. By analysing and passing judgement, you can feel a sense of superiority. But I think that's wrong. Nothing happens by criticizing someone's work. Creators exist because they were moved by someone's work. That emotional impetus is important. That's why when it comes to comedy, music, even things I'm not interested in, I try to find the positives.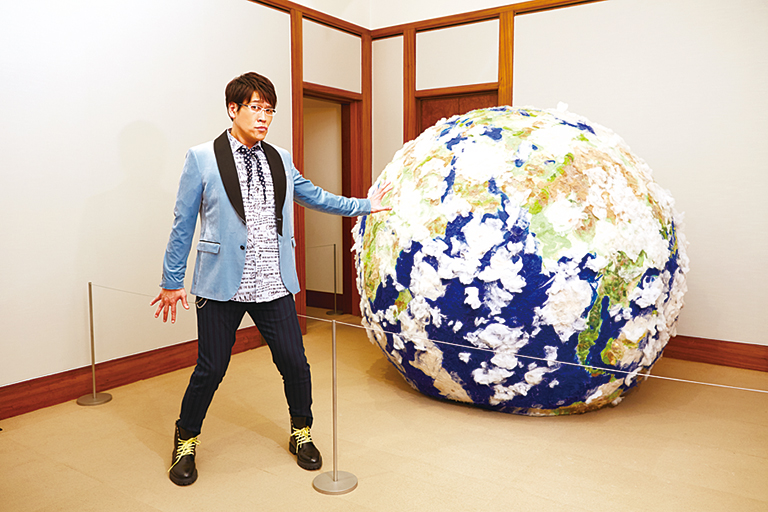 Yoshikazu Yamagata 《Earth, from "Save the Earth", the 2015 AW collection》
Entertainment is kind of a useless thing, and it's extremely scary creating something that no one has asked for. "Avant-garde" and "surreal" artists try to see how far they can push things from the norm, but I think the really powerful artists are the "originators" – the ones who express themselves in a truly unique, original way.
To do that, of course you need skill and experience, and knowledge on top of that. In my case, I was unable to become an originator for the longest time – I worked for 25 years without any great success (laughs).
Fundamentals and "deviation"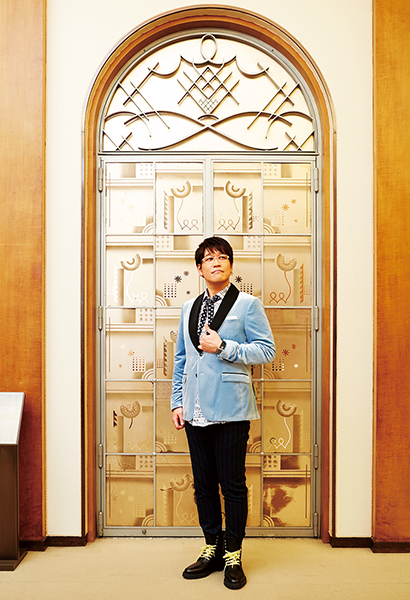 Young people often say that you have to break conventions, or do something that no one's ever done before. When I started out as a comedian, my act was completely. surreal – I never wanted to resort to cliches. When I think about it, that period was pretty bad. I think we grow as people when, after worrying and struggling over a problem, we find the answer through studying. I studied music quite methodically for about three years, looking at the composition of everything from pop music to rock, jazz and hip-hop, before I was finally able to make my own kind of "deviation".
With "PPAP", putting the ideas of "I have a pen" and "I have an apple" together to get "pen and apple" is quite normal, but when I combine them to get "apple pen", I'm putting my own mark on it – I'm "deviating". Making a point of not explaining it – just having a strange guy like PIKOTARO dancing there – that's another way of deviating. Critically speaking, you could say the gag is quite boring, but behind it all a lot of effort went into that track. From a musician's point of view, putting that "tyoon" sound effect where I did is pretty stupid. Some of them complain (ironically) about how I manage to get laughs by breaking the rules.
PIKOTARO grew much bigger than I ever imagined he would, but I think in the future I'd like to go further into the world, especially Asia, and collaborate with a lot of different people. My target is the 2020 Tokyo Olympics. I don't want to just appear – I want to be accepted, and for people to be like, "Oh right, it's that guy!" I'm thinking of a lot of ways to surprise everyone, so please look forward to what I have in store.